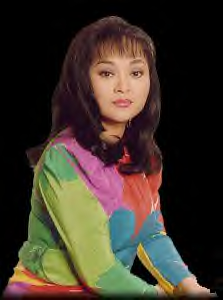 In 1961, when she was only five years old, Huong Lan was introduced to the stage by her father, actor Huu Phuoc. Huong Lan made her debut on stage in Thieu Phu Nam Xuong, a Cai luong production (Vietnamese Opera).

In 1966, Huong Lan made a crossover to Vietnamese popular music singing for the first time with Ai ra Xu Hue by Duy Khanh. Her beautiful voice and stage presence won the heart of many people.

In terms of popular music, Huong Lan likes songs that glorify the beauty of Vietnam and romantic ballads. Huong Lan has been an entertainer for most of her life so she is interested in the works of many song writers. Depending on the period, Huong Lan likes several songs written prior to 1975 and many songs written after this period. However, Huong Lan maintains that she never strays from her main subjects, country/folk music (from Vietnam's three regions) and romantic ballads.

Huong Lan thinks that the fans from San-Jose are especially delightful but they are very picky, and they demand the artist to be on top of his/her craft. For this reason, she tries to hone her skills to stay abreast with the materials and the sentiment of the public.